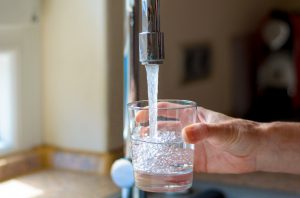 A recent Gallup poll found that 63 percent of Americans worry about the quality of their drinking water—the highest percentage since 2001. Although most of these fears may be unfounded, you may simply want to improve the taste of your drinking water and eliminate the possibility of any contaminants that could be introduced through older plumbing systems in your home. Fortunately, there are simple steps you can take to evaluate your home's water and correct any problems.

Solutions to Improve Your Water's Taste and Clarity
The first step is to test your water with an independent, certified testing lab. For those who obtain their water from a private well, the EPA recommends annual testing.
If you have concerns about your water, be proactive by installing a point-of-use water filter, such as a countertop filtering pitcher or a kitchen faucet-mounted filter. Both systems are relatively inexpensive and easy to install.
Pitcher and faucet filters remove many common substances, including the chlorine smell that some tap water has. Make sure the product you purchase meets the requirements of NSF International Standard 53. You can consult the manufacturer's performance data sheet for a list of contaminants a particular filter reduces.
Faucet Mount or Pitcher?
Faucet-mounted filters are more versatile than pitchers. A faucet mount not only filters your drinking water, but makes it is easy to use filtered water for cooking, preparing tea and coffee, and cleaning fruits and vegetables. Installation is easy—most are "no tools required" that screw on to the end of the faucet. Look for models that have an indicator light that tells you when it's time to change the internal filter—an important step to keep the system working properly.
Whether you choose a filtration pitcher or faucet-mounted filter, they're both excellent choices that will remove minerals and additives from your water and improve its taste and clarity.
Article Source: RISMedia Via HouseCall By Fran J. Donegan