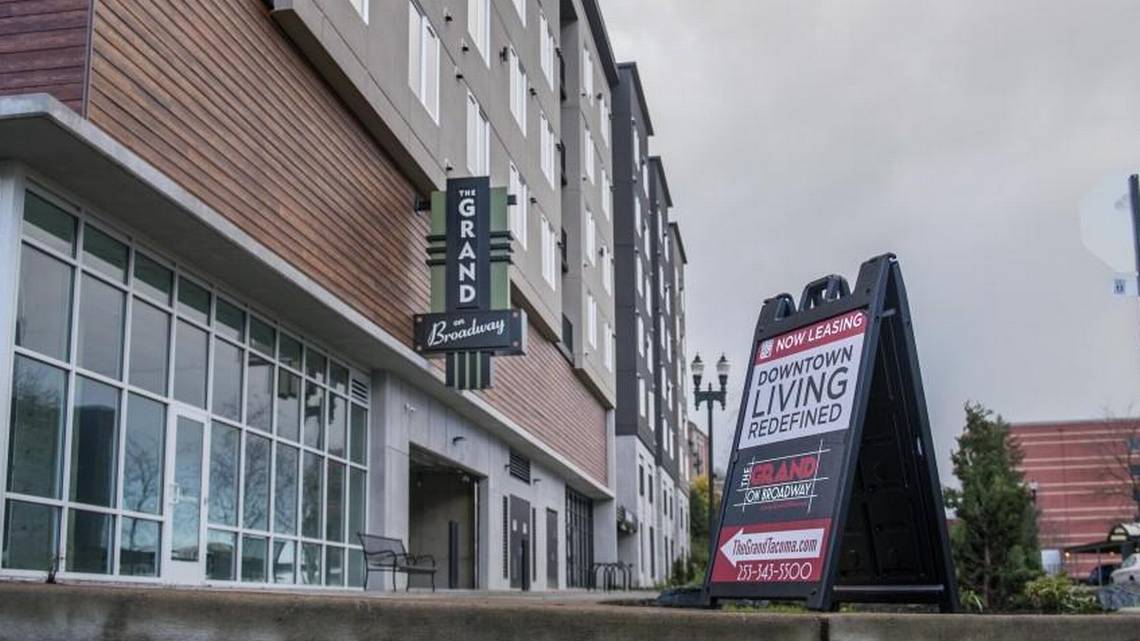 The Grand on Broadway, a new apartment building in Tacoma, January 30, 2018. Rents across Tacoma and Pierce County increased at a rapid rate in 2017, according to multiple reporting agencies. Peter Haley phaley@thenewstribune.com.
Tacoma and Pierce County saw some of the largest rent increases in the nation last year.
Dollar amounts vary from source to source, but experts agree renting in the South Sound is costing a lot more.
Tacoma has routinely shown up on Top 10 lists for year-over-year rent increases.
According to Trulia, a real estate-data firm, median rents rose an estimated 8.8 percent from 2016 to 2017 — to $1,785 per month according to the report — the biggest increase by its measure in the nation. (No. 2 was Sacramento at 8.3 percent.)
Trulia's examination of Tacoma's rents included information on homes and apartments from "essentially all of Pierce County," company spokeswoman Daisy Kong said.
Other estimates of Tacoma's monthly rents are lower than Trulia's, often by hundreds of dollars. Even the poshest of Pierce County ZIP codes didn't approach $1,800 for median rent, according to other reports.
But Trulia's year-over-year percentage increase didn't surprise local economist and researcher Neal Johnson of Sound Resource Economics, who presented the Pierce County Economic Index report at the recent Tacoma-Pierce County Chamber Horizons Economic Forecast.
Trulia's number is similar that reported by Zillow, another real estate-data website, Johnson told The News Tribune. Zillow showed a 9.3-percent rise from December 2016 to December 2017.
Zillow reported a December 2017 median rental rate for Tacoma of $1,414 (up from $1,294 the prior December), Johnson said.
Among other details from the Pierce County Economic Index report: Areas with the highest rents include Gig Harbor, downtown Tacoma, Tacoma's North End and DuPont.
"These markets, with median rental rates in the range of $1,480 to $1,600 per month, saw year-over-year increases of between 4.1 percent and 7.4 percent," according to the report.
Areas with lower rents, in the range of $1,280 to $1,360 per month, included Parkland, south Tacoma, Lakewood, Puyallup and Spanaway.
ApartmentList.com, another data firm, show's Tacoma's year-over-year rent increase at nearly double the national average of 2.6 percent. At 5.1 percent growth, Tacoma ranks No. 14 in the nation for rent increases, where Seattle falls at No. 51. Sacramento took the No. 1 spot in ApartmentList.com's ranking of large cities, with a 9.3 percent rent increase.
Rents are rising all across the Pacific Northwest as more people move here. Developers are not building enough housing units to accommodate them, hence the rise in housing prices.
Thousands of apartment units will be ready for renters through next year. As apartments open, vacancy rates are rising, according to McCament and Rogers, a Tacoma consulting firm that analyzes the rental market in Tacoma. A higher vacancy rate usually means rents would climb slower, or even drop. Still, vacancy rates remain firmly below 5 percent.
"A few of the larger properties adjust rents daily based on market conditions," a December McCament and Rogers report says of Tacoma market rate apartments.
Fewer firms examine single-family home rents, but prices have been increasing there, too. More Pierce County homes than ever are owned by investment companies, which demand high rates of return. Many took advantage of low home prices or foreclosures during the recession several years ago.
Article Source: The News Tribune By Kate Martin & Debbie Cockrell