Here are some more of our favorite small businesses this week! Remember to shop small & support local.
.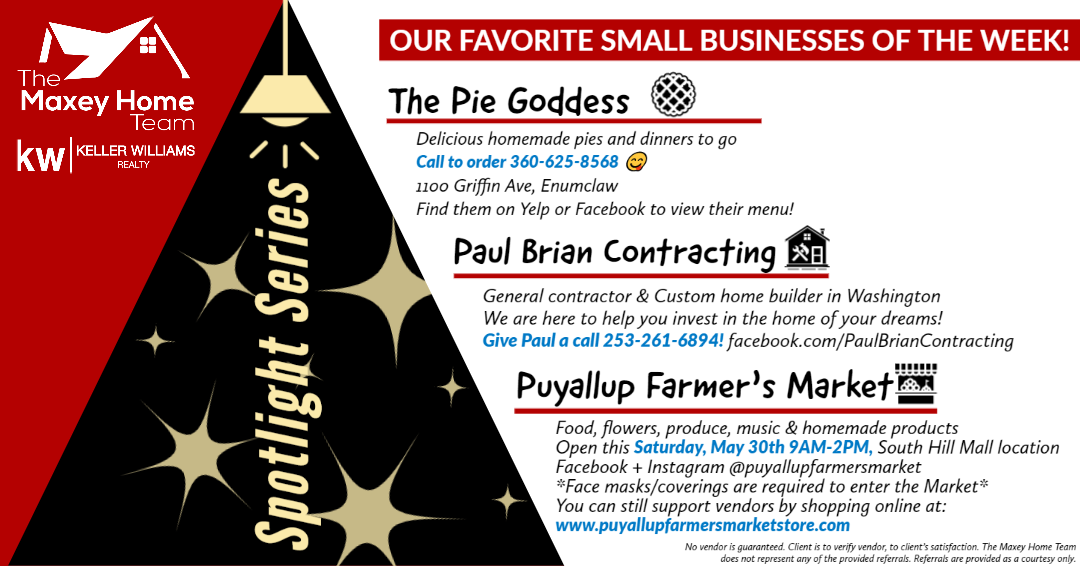 .
The Pie Goddess
Homemade pies and dinners to go
Call to order 360-625-8568
1100 Griffin Ave, Enumclaw
Find them on Yelp or Facebook to view their menu!
--
Paul Brian Contracting
General contractor & Custom home builder in Washington
We are here to help you invest in the home of your dreams!
Give Paul a call 253-261-6894!
facebook.com/PaulBrianContracting
--
Puyallup Farmer's Market
Food, flowers, produce, music & homemade products
Open this Saturday, May 30th 9AM-2PM, South Hill Mall location
facebook.com/puyallupfarmersmarket/
instagram.com/puyallupfarmersmarket/
*Face masks/coverings are required to enter the Market*
You can still support vendors by shopping online at:
www.puyallupfarmersmarketstore.com ⁣
#maxeyhometeam #smallbusiness #local #business #vendor #localbusiness #entrepreneur #businessowner #smallbusinesslove #startupbusiness #smallbusinessowner #beyourownboss #entrepreneurial #entrepreneursofinstagram #ladyboss #hustle #smallbusinessspotlight #hardworker #dreamer #success #biztip #helpothers #businesslife #sumner #bonneylake #puyallup #buckley #thepiegoddess #paulbriancontracting #puyallupfarmersmarket