Here are some more of our favorite small businesses this week! Remember to shop small & support local.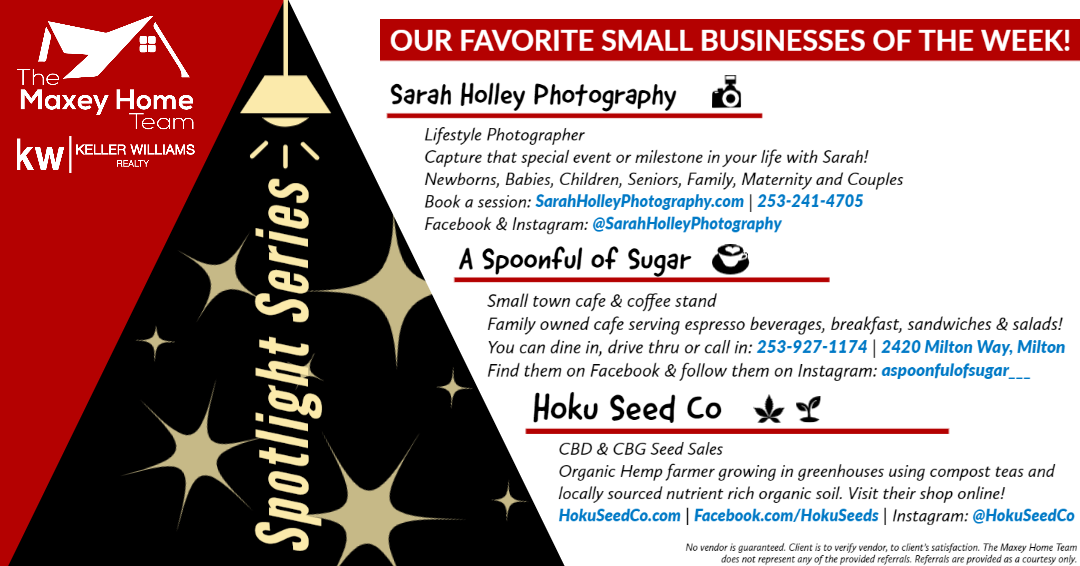 Capture that special event or milestone in your life with Sarah!
Newborns, Babies, Children, Seniors, Family, Maternity and Couples
Book a session: SarahHolleyPhotography.com | 253-241-4705
Facebook & Instagram: @SarahHolleyPhotography
Small town cafe & coffee stand
Family owned cafe serving espresso beverages, breakfast, sandwiches & salads!
You can dine in, drive thru or call in: 253-927-1174 | 2420 Milton Way, Milton | Find them on Facebook & follow them on Instagram: aspoonfulofsugar___
Organic Hemp farmer growing in greenhouses using compost teas and locally sourced nutrient rich organic soil. Visit their shop!
www.HokuSeedCo.com | Facebook.com/HokuSeeds | Instagram: @HokuSeedCo
#maxeyhometeam #smallbusiness #local #business #vendor #localbusiness #entrepreneur #businessowner #smallbusinesslove #startupbusiness #smallbusinessowner #beyourownboss #entrepreneurial #entrepreneursofinstagram #ladyboss #hustle #smallbusinessspotlight #hardworker #dreamer #success #biztip #helpothers #businesslife #sumner #bonneylake #puyallup #buckley #SarahHolleyPhotography #aSpoonfulofsugar #hokuseedco