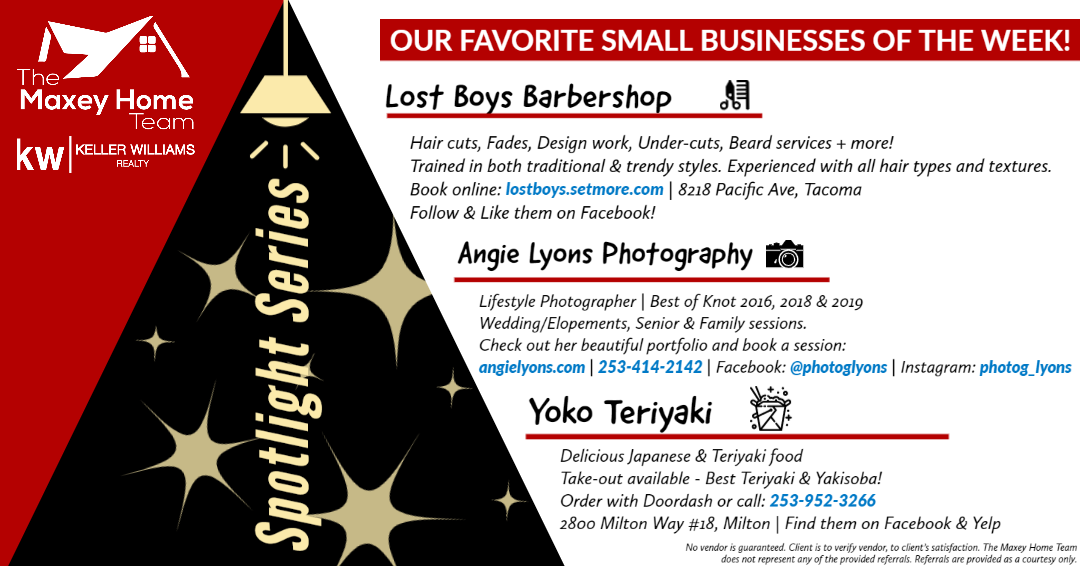 Lost Boys Barbershop
Hair cuts, Fades, Design work, Under-cuts, Beard services + more!
Trained in both traditional & trendy styles. Experienced with all hair types and textures.
Lifestyle Photographer | Best of Knot 2016, 2018 & 2019
Wedding/Elopements, Senior & Family sessions.
Check out her beautiful portfolio and book a session:
Facebook: @photoglyons | Instagram: photog_lyons
Delicious Japanese & Teriyaki food
Take-out available - Best Teriyaki & Yakisoba!
Order with Doordash or call: 253-952-3266
2800 Milton Way #18, Milton | Find them on Facebook & Yelp
#maxeyhometeam #smallbusiness #local #business #vendor #localbusiness #entrepreneur #businessowner #smallbusinesslove #startupbusiness #smallbusinessowner #beyourownboss #entrepreneurial #entrepreneursofinstagram #ladyboss #hustle #smallbusinessspotlight #hardworker #dreamer #success #biztip #helpothers #businesslife #milton #bonneylake #puyallup #tacoma #AngieLyonsPhotography #LostBoysBarbershop #YokoTeriyaki