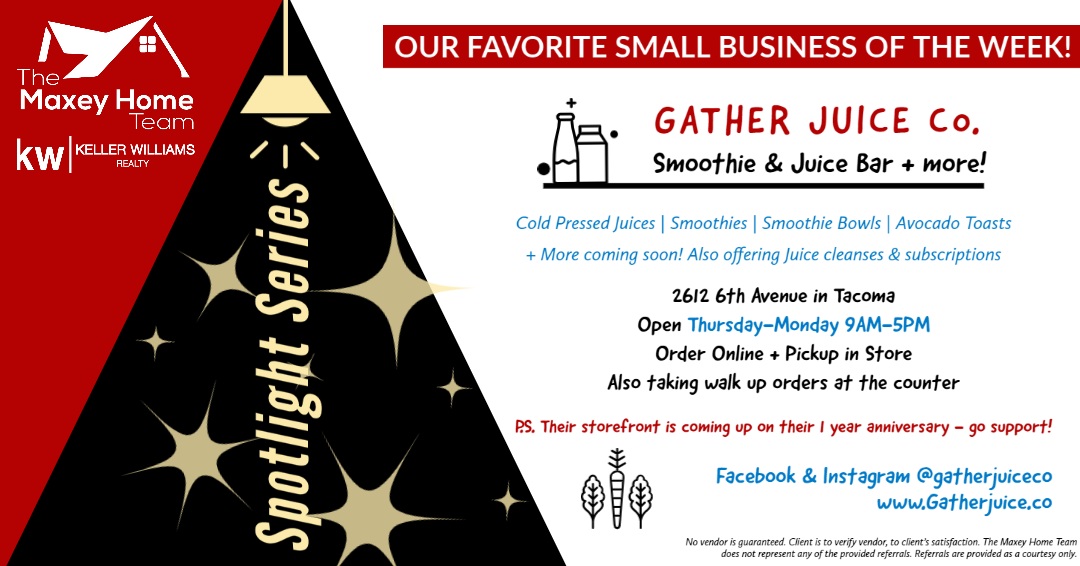 Gather Juice Co.
Cold Pressed Juice | Smoothies | Smoothie Bowls | Avocado Toasts + More coming soon! Also offering Juice cleanses & subscriptions
Open Thursday-Monday 9AM-5PM
*Order Online + Pickup in Store. Also taking walk up orders at the counter*
P.S. Their storefront is coming up on their 1 year anniversary!
Remember to shop small & support local.
#maxeyhometeam #smallbusiness #local #business #vendor #localbusiness #entrepreneur #businessowner #smallbusinesslove #startupbusiness #smallbusinessowner #beyourownboss #entrepreneurial #entrepreneursofinstagram #Foodie #hustle #smallbusinessspotlight #hardworker #dreamer #success #biztip #helpothers #businesslife #ttown #seattle #puyallup #tacoma #juice #avotoast #gatherjuiceco