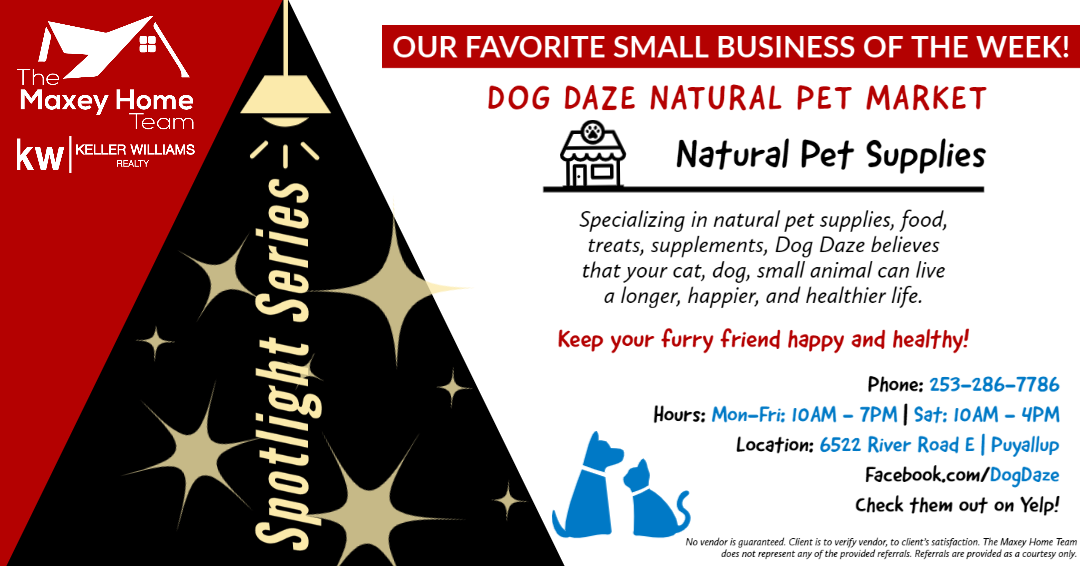 Here is another one of our favorite small businesses! Remember to shop small & support local.
-
Dog Daze Natural Pet Market
Specializing in natural pet supplies, food, treats, supplements, Dog Daze believes that your cat, dog, small animal can live a longer, happier, and healthier life. Keep your furry friend happy and healthy. Find the best supplies to care for your pet at Dog Daze Natural Pet Market in Puyallup!
-
Phone: 253-286-7786
Hours: Mon-Fri: 10AM - 7PM | Sat: 10AM - 4PM
Location: 6522 River Road E | Puyallup
.
#maxeyhometeam #smallbusiness #local #business #vendor #localbusiness #entrepreneur #businessowner #smallbusinesslove #startupbusiness #smallbusinessowner #beyourownboss #entrepreneurial #entrepreneursofinstagram #pet #dogdaze #smallbusinessspotlight #hardworker #natural #success #biztip #helpothers #businesslife #bonneylake #seattle #puyallup #tacoma #spanawaywa #spanaway #dogdazenaturalpetmarket