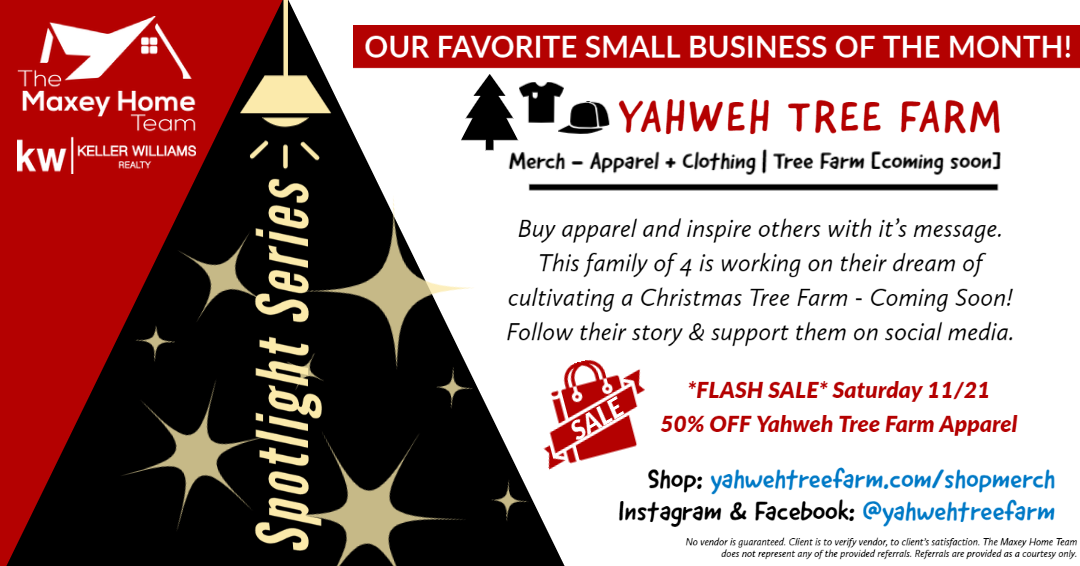 Here is another one of our favorite small businesses! Remember to shop small & support local.
-
Yahweh Tree Farm
Merch - Apparel + Clothing | Tree Farm [coming soon]
-
*FLASH SALE* Saturday 11/21
50% OFF Yahweh Tree Farm Apparel
-
Buy apparel and inspire others with it's message. This family of 4 is working on their dream of cultivating a Christmas Tree Farm - Coming Soon! Follow their story & support them on social media.
-
.
#maxeyhometeam #smallbusiness #local #business #vendor #localbusiness #entrepreneur #businessowner #smallbusinesslove #startupbusiness #smallbusinessowner #beyourownboss #entrepreneurial #entrepreneursofinstagram #christmas #christmastreefarm #smallbusinessspotlight #hardworker #dream #success #biztip #helpothers #farmlife #godsplan #washington #oregon #apparel #sale #christmasgifts #yahewtreefarm