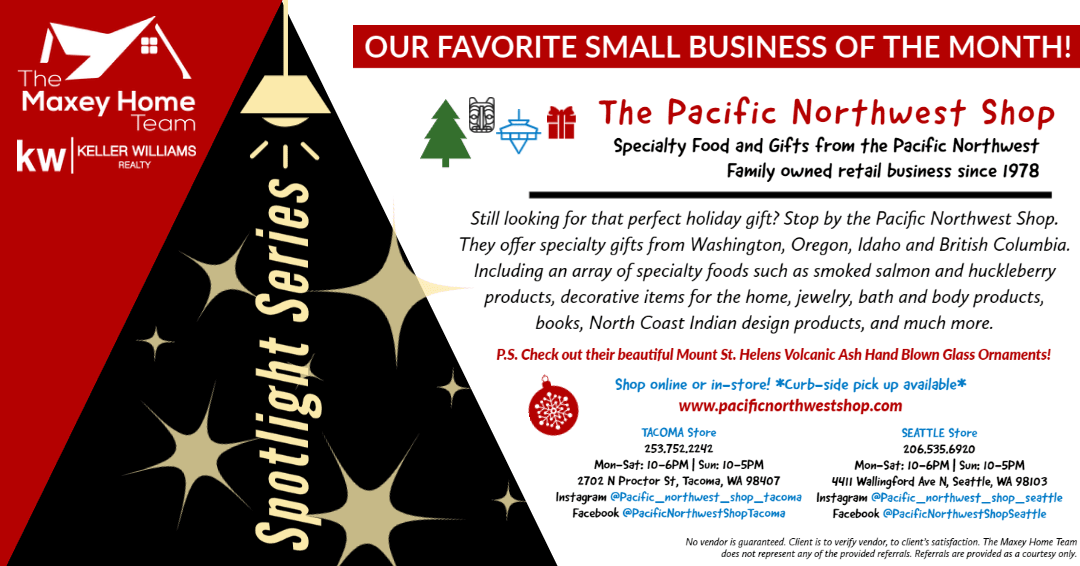 Here is another one of our favorite small businesses! Remember to shop small & support local. 💞
-
The Pacific Northwest Shop 🌲🎁
Specialty Food and Gifts from the Pacific Northwest
Family owned retail business since 1978
-
Still looking for that perfect holiday gift? Stop by the Pacific Northwest Shop. They offer specialty gifts from Washington, Oregon, Idaho and British Columbia. Including an array of specialty foods such as smoked salmon and huckleberry products, decorative items for the home, jewelry, bath and body products, books, North Coast Indian design products, and much more.
P.S. Check out their beautiful Mount St. Helens Volcanic Ash Hand Blown Glass Ornaments!
-
Shop online or in-store! *Curb-side pick up available*
-
SEATTLE Store
206.535.6920
Mon-Sat: 10-6PM | Sun: 10-5PM
4411 Wallingford Ave N, Seattle, WA 98103
Instagram @Pacific_northwest_shop_seattle
Facebook @PacificNorthwestShopSeattle
-
TACOMA Store
253.752.2242
Mon-Sat: 10-6PM | Sun: 10-5PM
2702 N Proctor St, Tacoma, WA 98407
Instagram @Pacific_northwest_shop_tacoma
Facebook @PacificNorthwestShopTacoma
.
#maxeyhometeam #smallbusiness #local #business #vendor #localbusiness #entrepreneur #businessowner #smallbusinesslove #startupbusiness #smallbusinessowner #beyourownboss #entrepreneurial #entrepreneursofinstagram #pnw #hustle #smallbusinessspotlight #holiday #christmas #success #presents #helpothers #businesslife #seattle #tacoma #puyallup #thepacificnorthwestshop #pnwshop #pacificnorthwestshop #proctordistrict