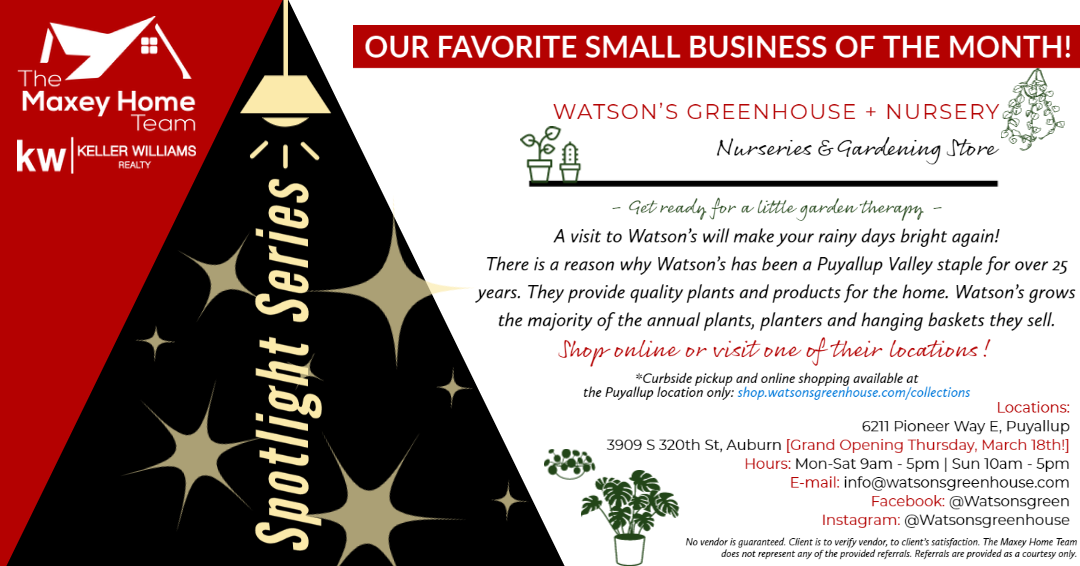 Here is another one of our favorite small businesses! Remember to shop small & support local. 💞
-
Watson's Greenhouse and Nursery 🌱🌼🌵🌿
Nurseries & Gardening Store
-
Get ready for a little garden therapy. A visit to Watson's will make your rainy days bright again! There is a reason why Watson's has been a Puyallup Valley staple for over 25 years. They provide quality plants and products for the home. Watson's grows the majority of the annual plants, planters and hanging baskets they sell. Shop online or visit one of their locations!
-
Locations:
6211 Pioneer Way E, Puyallup, WA 98371
3909 S 320th St., Auburn, WA 98001 [Grand Opening Thursday, March 18th!]
Hours: Mon-Sat 9am - 5pm | Sun 10am - 5pm
E-mail: info@watsonsgreenhouse.com
Facebook: @Watsonsgreen
Instagram: @Watsonsgreenhouse
*Curbside pickup and online shopping available at the Puyallup location only: shop.watsonsgreenhouse.com/collections
.
#maxeyhometeam #smallbusiness #local #business #vendor #localbusiness #entrepreneur #businessowner #smallbusinesslove #startupbusiness #smallbusinessowner #253 #entrepreneurial #entrepreneursofinstagram #plants #garden #smallbusinessspotlight #nursery #spring #success #federalway #helpothers #businesslife #seattle #tacoma #puyallup #houseplants #pnw #homemade #watsonsgreenhouse