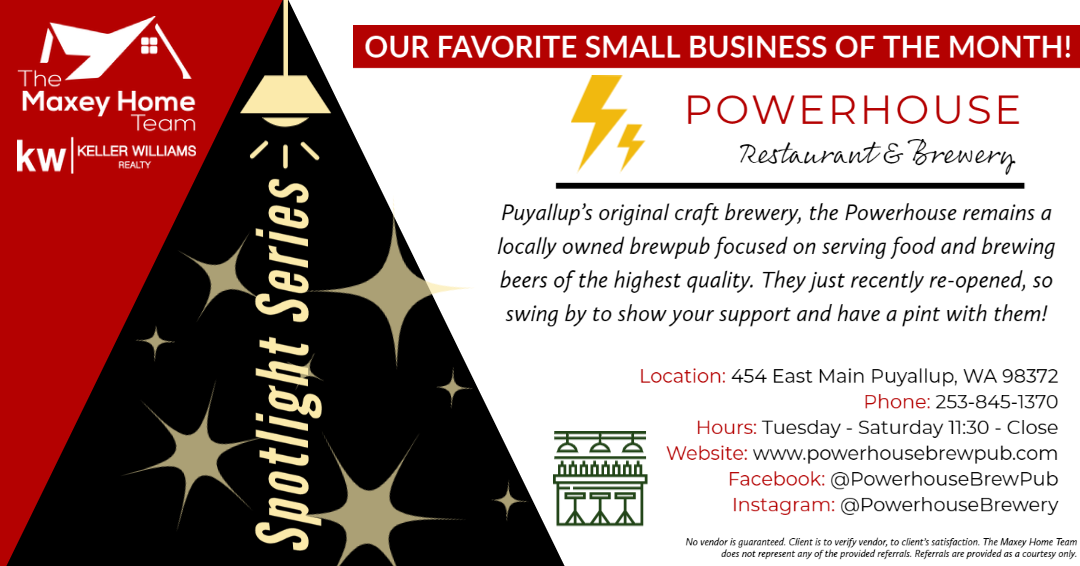 Here is another one of our favorite small businesses! Remember to shop small & support local. 💞
-
⚡️Powerhouse Restaurant & Brewery ⚡️🍽🍻
-
Puyallup's original craft brewery, the Powerhouse remains a locally owned brewpub focused on serving food and brewing beers of the highest quality. They just re-opened recently, so swing by to show your support and have a pint with them!
-
Location: 454 East Main Puyallup, WA 98372
Phone: 253-845-1370
Hours: Tuesday - Saturday 11:30 - Close
Website: www.powerhousebrewpub.com
Facebook: @PowerhouseBrewPub
Instagram: @PowerhouseBrewery
.
#maxeyhometeam #smallbusiness #local #business #vendor #localbusiness #entrepreneur #businessowner #smallbusinesslove #startupbusiness #smallbusinessowner #253 #entrepreneurial #entrepreneursofinstagram #plants #powerhousebrewery #smallbusinessspotlight #foodie #food #success #brewpub #helpothers #businesslife #seattle #tacoma #puyallup #brewery #pnw #restaurant #powerhousebrewpub