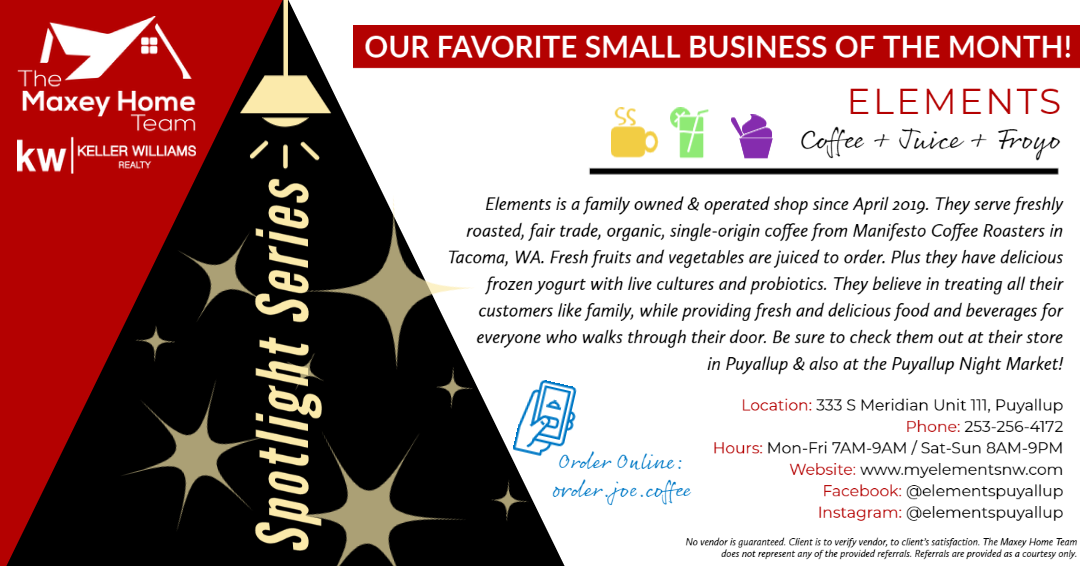 Here is another one of our favorite small businesses! Remember to shop small & support local. 💞
-
ELEMENTS ☕️🍵🍦
Froyo | Juice | Coffee | Tea | Açaí Bowls
-
Elements is a family owned & operated shop since April 2019. They serve freshly roasted, fair trade, organic, single-origin coffee from Manifesto Coffee Roasters in Tacoma, WA. Fresh fruits and vegetables are juiced to order. Plus they have delicious frozen yogurt with live cultures and probiotics. They believe in treating all their customers like family, while providing fresh and delicious food and beverages for everyone who walks through their door. Be sure to check them out at their store in Puyallup & also at the Puyallup Night Market!
-
Location: 333 S Meridian Unit 111, Puyallup
Phone: 253-256-4172
Hours: Mon-Fri 7AM-9AM / Sat-Sun 8AM-9PM
Website: www.myelementsnw.com
Order Online: order.joe.coffee
Facebook: @elementspuyallup
Instagram: @elementspuyallup
.
#maxeyhometeam #smallbusiness #local #business #vendor #localbusiness #entrepreneur #businessowner #smallbusinesslove #startupbusiness #smallbusinessowner #beyourownboss #entrepreneurial #entrepreneursofinstagram #pnw #hustle #smallbusinessspotlight #success #helpothers #businesslife #seattle #tacoma #puyallup #juice #acaibowl #tea #Coffee #coffeeshop #froyo #ElementsPuyallup