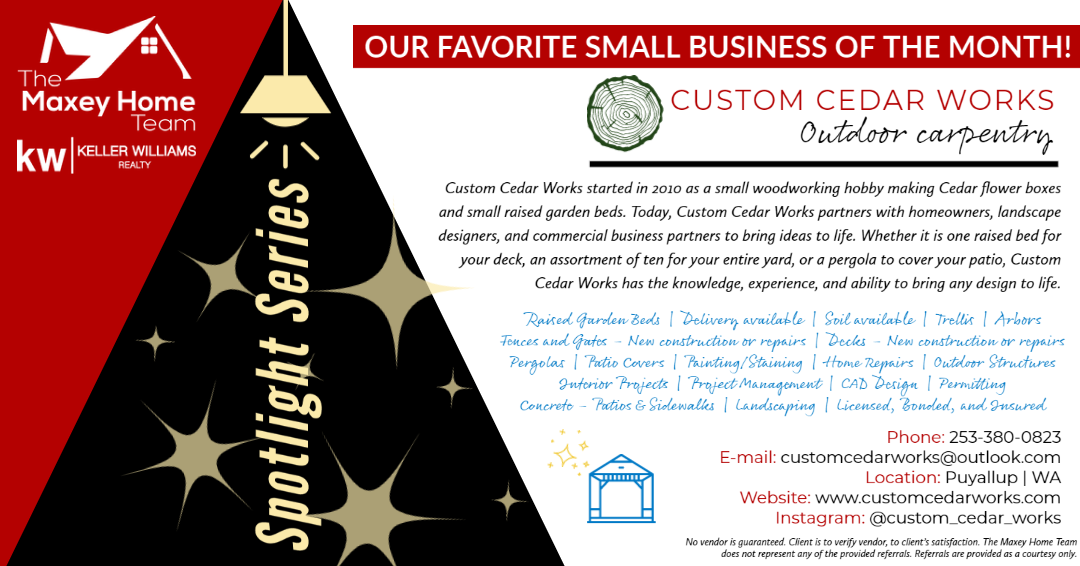 Here is another one of our favorite small businesses! Remember to shop small & support local. 💞
-
🌲🪓 CUSTOM CEDAR WORKS
Outdoor carpentry - Raised beds, arbors, trellis, fences, decks, and more!
-
Custom Cedar Works started in 2010 as a small woodworking hobby making Cedar flower boxes and small raised garden beds. Today, Custom Cedar Works partners with homeowners, landscape designers, and commercial business partners to bring ideas to life. Whether it is one raised bed for your deck, an assortment of ten for your entire yard, or a pergola to cover your patio, Custom Cedar Works has the knowledge, experience, and ability to bring any design to life.
Services: Raised Garden Beds | Delivery available | Soil available | Trellis | Arbors | Fences and Gates - New construction or repairs | Decks - New construction or repairs | Pergolas | Patio Covers | Painting/Staining | Home Repairs | Outdoor Structures | Interior Projects | Project Management | CAD Design | Permitting | Concrete - Patios & Sidewalks | Landscaping | Licensed, Bonded, and Insured
-
Location: Puyallup | WA
Phone: 253-380-0823
E-mail: customcedarworks@outlook.com
Website: www.customcedarworks.com
Instagram: @custom_cedar_works
.
#maxeyhometeam #smallbusiness #local #business #vendor #localbusiness #entrepreneur #businessowner #smallbusinesslove #startupbusiness #smallbusinessowner #beyourownboss #entrepreneurial #entrepreneursofinstagram #boss #hustle #smallbusinessspotlight #hardworker #gardenbeds #success #biztip #helpothers #businesslife #cedar #bonneylake #puyallup #tacoma #carpentry #customcedarworks #pergola