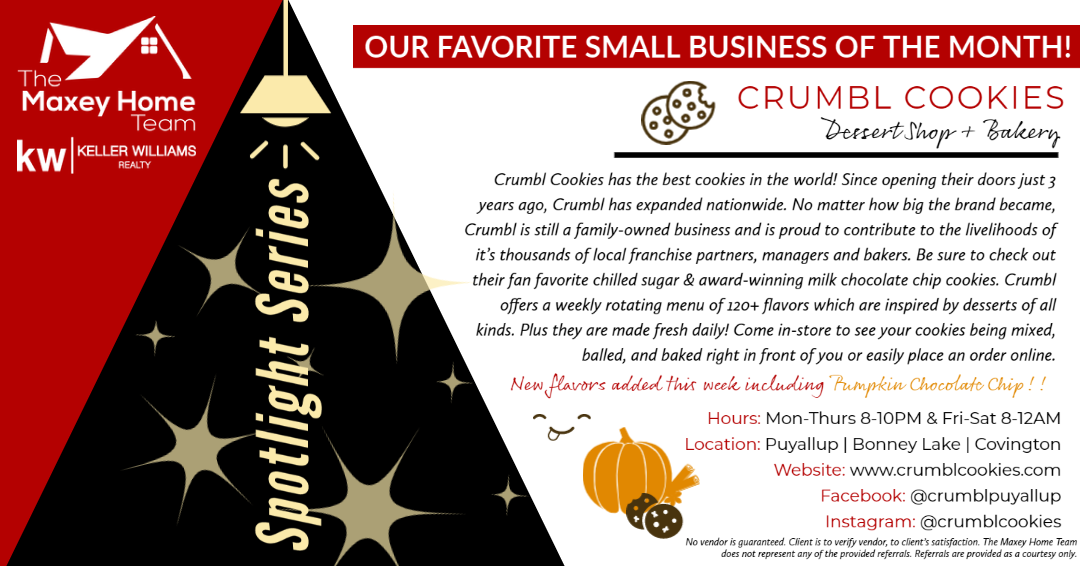 Here is another one of our favorite small businesses! Remember to shop small & support local. 💞
-
Crumbl Cookies 🍪
Dessert Shop + Bakery
-
Crumbl Cookies has the best cookies in the world! Since opening their doors just 3 years ago, Crumbl has expanded nationwide. No matter how big the brand became, Crumbl is still a family-owned business and is proud to contribute to the livelihoods of it's thousands of local franchise partners, managers and bakers. Be sure to check out their fan favorite chilled sugar & award-winning milk chocolate chip cookies. Crumbl offers a weekly rotating menu of 120+ flavors which are inspired by desserts of all kinds. Plus they are made fresh daily! Come in-store to see your cookies being mixed, balled, and baked right in front of you or easily place an order online.
New flavors added this week including Pumpkin Chocolate Chip!! 🎃
Hours: Mon-Thurs 8-10PM & Fri-Sat 8-12AM
Location: Puyallup | Bonney Lake | Covington
Website: www.crumblcookies.com
Facebook: @crumblpuyallup
Instagram: @crumblcookies
.
#maxeyhometeam #smallbusiness #local #business #vendor #localbusiness #entrepreneur #businessowner #smallbusinesslove #startupbusiness #smallbusinessowner #253 #entrepreneurial #entrepreneursofinstagram #loganUT #cookies #smallbusinessspotlight #cookielover #bakery #success #dessert #seattle #businesslife #foodie #covingtonwa #puyallup #bonneylake #pnw #crumblcookies #crumbl