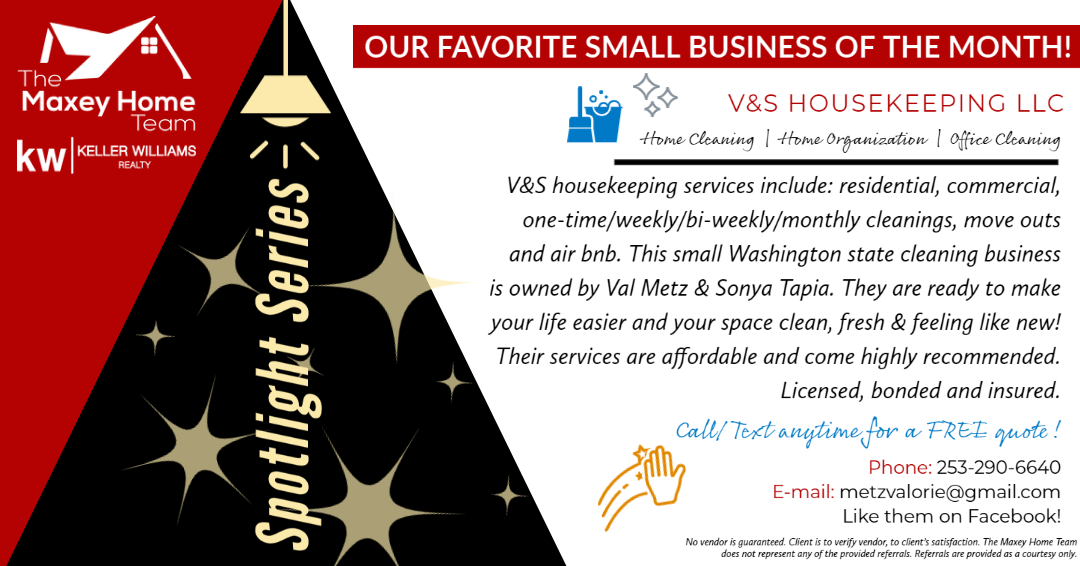 Here is another one of our favorite small businesses! Remember to shop small & support local. 💞
V&S housekeeping LLC
Home Cleaning | Home Organization | Office Cleaning
V&S housekeeping services include: residential, commercial, one-time/weekly/bi-weekly/monthly cleanings, move outs and air bnb. This small Washington state cleaning business is owned by Val Metz & Sonya Tapia. They are ready to make your life easier and your space clean, fresh & feeling like new! Their services are affordable and come highly recommended. Licensed, bonded and insured.
Call/Text anytime for a FREE quote!
Phone: 253-290-6640
E-mail: metzvalorie@gmail.com
Like them on Facebook!
.
#maxeyhometeam #smallbusiness #local #business #vendor #localbusiness #entrepreneur #businessowner #smallbusinesslove #startupbusiness #smallbusinessowner #253 #entrepreneurial #entrepreneursofinstagram #cleaning #housecleaning #smallbusinessspotlight #cleanhome #clean #success #airbnb #seattle #businesslife #cleaningbusiness #vshousekeeping #puyallup #housekeeping #pnw #residential #commercial